Are you looking to buy or sell Washington County real estate? There are wide selections of Washington County homes for sale. Washington County possesses the best views and has the potential of providing you with the ideal lifestyle you are looking for in terms of the variety of real estate available.
The Washington County real estate market
It is agreed that buying a house can be very stress-inducing because you are looking for the place that best suits your needs and wants in Southern Utah. It is essential that you start at the right time as it takes a lot of time touring various properties, filling out forms, and doing the paperwork. Currently, the median list price of homes for sale in Washington County, Utah is $420K. However, the property values have risen upwards by over 20% in the past year.
Why buy a home in Southern Utah?
Southern Utah, especially Washington County, is home to world-famous National Monuments and National Parks. Its undeniable beauty as well as mountainous landscape provides you with the comfort and escape that you are looking for. There are endless recreational facilities available in the Utah Mountains, where you can own private cabins in the woods and relax by the lakes.
It is less than a 2-hour drive from Las Vegas, and 4-hours to Salt Lake City, ideal for the affordable Washington County real estate that you are seeking. Washington County real estate is not only one of the strongest in America, but also has immense business potential for business owners and investors.
Washington County Land for Sale
The search results you see for "Washington County land for sale" above has a price cap of $1M. If you would like to see more results that are not limited to $1M, go back to the top of this page and click the "Lots/Land" tab of the search widget. There you can add more specific criteria.
Property values in Washington County, Utah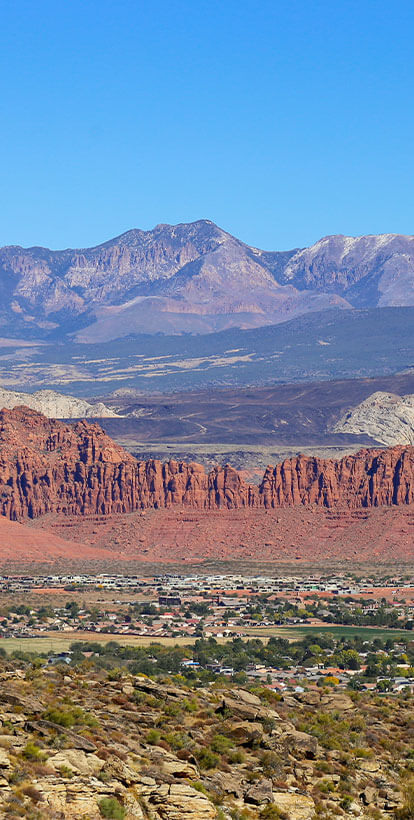 There are a decreasing number of homes for sale in Washington County, Utah. And the median listing price for Washington County homes for sale is currently $407K, which translates into $225 per square foot. There are also a number of rental/investment homes for sale in Washington County, Utah, with a range of $938 to $2.3K per/mo, although this inventory is also diminishing quickly.
Use an experienced real estate agent
Not only do real estate agents help you through the buying process, but they also know the market extremely well. They are capable of predicting fluctuations in the market as well. Real estate agents act as your personal bodyguards in terms of property selling or buying, as they will help you avoid bad deals.
They can customize your search for your perfect home in accordance with your needs and desires. With the right Washington County real estate agent, this process can be time-efficient. In order to fully optimize the services of your Washington County, Utah real estate agent, you should narrow down your requirements. It will make the process of hunting homes for sale in Washington County, Utah simpler. That way, your real estate agent will understand exactly what you are looking for. After all the aspects are planned out, the agent can filter the best fit for you.
Secure financing with the right lender
Applying for a mortgage is necessary if you do not have spare cash allocated for buying a home. For most people looking for homes for sale in Washington County, Utah, high interest rates can be a potential barrier. It is highly recommended that you do your research and compare the options at hand to save you a fortune.
Search Property by
City or Community: